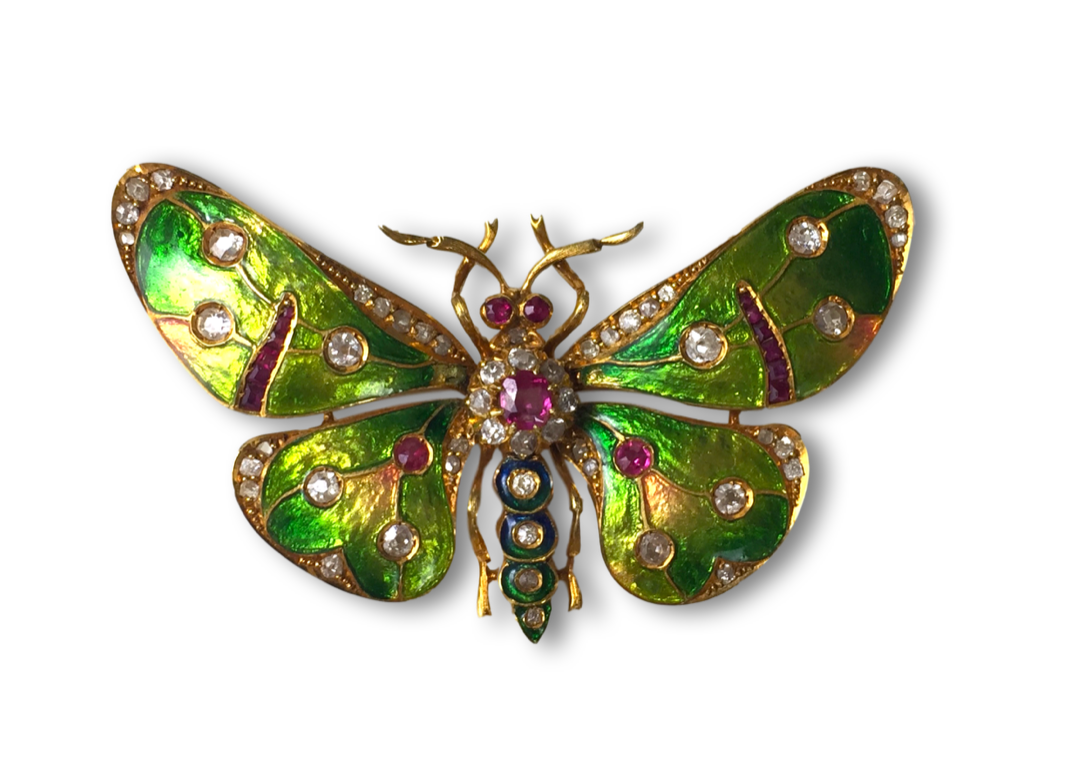 'All a flutter with excitement '
December auction results in the press
For those who couldn't wait for Christmas morning, Laidlaw Auctioneers & Valuers' most recent Saturday auction proved to be a treasure trove of delights for grown-ups. 'Our Christmas auctions have always felt that extra bit special' says auctioneer Paul Laidlaw, and he's not wrong. While complementary bubbly chilled in the arctic temperatures outside, a bidding frenzy left buyers hot and flustered and prices soaring.
'Auctions make an excellent hunting ground for unique presents' says Paul, 'combined with an exciting shopping experience. There are exquisite things to be found that you might never see again.' Certainly one of those lots on offer was an emerald green enamelled Edwardian butterfly brooch set with diamonds and rubies. 'It brought to mind that stunning hair comb worn by Kate Winslet in Titanic' says Paul, and was much coveted prior to the sale, selling for £2,100 after a telephone bidding battle leaving all a flutter with the excitement.
'We had an astonishing 55,000 views on our online auction catalogue in the lead up to the sale' says Paul 'with many hundreds bidding live, via the internet.' The international bidders were unabated in their interest, with successful buyers based in all corners of the globe including Jerusalem, New Zealand, Russia and Latvia. Sellers too were up in celebration as they watched high prices being achieved on their auction entries, including a pair of Meiji Japanese bronze vases which saw intense online and phone bidding activity drive the price up to £3,400, the proceeds of which are going to charity.
Another charity submission was a collection of autographs assembled during the 1980s by the Carlisle Scoliosis Fund-Raising Group, featured just recently in the paper, with the lots selling for a combined £2,400 and the proceeds being donated to the University of Edinburgh Medical School to support further research.
The category of silver performed well on the day, and one bidder, perhaps with 'visions of sugarplums', successfully fought off competition to buy a canteen of cutlery in a fruiting vine pattern for £3,600. While other bidders chased an Arts and Crafts cream jug designed by Archibald Knox for Liberty of London, which sold for £440, proving that the market for iconic names still remains.
Competition in the category of clocks was also strong, bucking the national trend, and as if to demonstrate extreme differences in taste; the two most sought after examples were the smallest and largest on offer. The 'little' and 'large' duo sparked a bidding frenzy both on the internet and in the room, with the former selling for £1,500 and the larger for £1,550.
The sale of course wouldn't have been complete without an impressive military lot with a nationally important back story, something for which the auction house has become renowned. In this case it was an extensive offering pertaining to a Great War Army Service Corps staff car driver who was chauffeur to Sir Doulas Haig. Sold over three lots the items included the driver's Service Dress tunic and caps, kit bag and extensive correspondence including personal photographs, together with two rare British Army pennants, both of which were from Haig's own staff car. 'It was such an incredible lot' says auctioneer Paul 'I remember being blown away when I first learnt of it. This is real time travel stuff. Something tangible from the past which up until now had remained hidden away.' The combined lots sold for a total of £2,170 on the hammer.
'We really take pride in sourcing form private clients nationwide, giving excellent service and delivering strong results' says Paul. 'We had over a 93% sale rate on the day and averaged high estimate across the sale. Our statistics are exceptional, and he hope they speak volumes about the quality of our service'. They certainly appear to. All that's left now is to wait and wonder at what exciting treasures they unwrap in 2018.